State Bank Of India has provided its customer various easy ways to block their credit cards when its been stolen or its been lost.
We can block the card in mainly three ways either by using SBI Card App, by calling to customer care or by sending sms.
BLOCKING SBI CREDIT CARD USING SBI CARD APP.
Step 1: Download and install SBI Card App into your Android or iOS device.
Android: https://play.google.com/store/apps/details?id=com.ge.capital.konysbiapp
iOS: https://apps.apple.com/in/app/sbi-card/id694549848
Step 2: Login into your App dashboard and click on the top menu left hand side.
Step 3: Click on Services.
Step 4: Click on Block Card.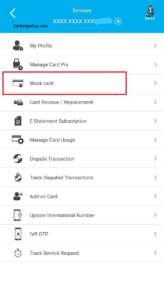 Step 5: Select the reason of blocking and click on submit.
BLOCKING SBI CREDIT CARD BY CALLING TO CUSTOMER CARE.
You can call SBI toll free customer care number and follow the telephonic instruction to successfully block your credit card.
1860 500 1290 OR 1860 180 1290
BLOCKING SBI CREDIT CARD BY SENDING SMS.
You can also block your SBI CREDIT CARD just by sending a SMS. Send the SMS in the below format from your registered mobile number.
BLOCK XXXX to 5676791
XXXX are the last digit of your card number.
(Visited 104 times, 1 visits today)