We can use more than one bank accounts in PhonePe to do our banking transactions like sending money, recharging our mobile phones, paying our bills etc.
PhonePe is a digital wallet and online payment company based in Bangalore, India. It is based on Unified Payments Interface (UPI).
How to add multiple bank accounts in PhonePe?
Step 1: Open your PhonePe app on your smartphone.
Step 2: Click on "My Money" from bottom and click on "Bank Accounts"
Step 3: Click on "Add New Bank Account"
Step 4: Select the name of the bank, which account you want to add.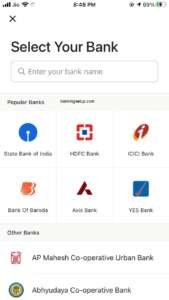 After selecting your bank name it will find your account which is registered with your mobile number.
After your bank account is successfully fetched, set up a UPI pin and its ready to use.
(Visited 4,073 times, 4 visits today)