Transferring money from credit card to bank account is now easy and simple. Now one can easily transfer money from credit card to bank account just by using PayTM Business.
PayTM business allows users to create payment link in which customer can pay to the user via debit card, credit card, or by using QR code.
We will use this technique to create a payment link and we will pay by ourselves to transfer the money to our bank account.
First we will have to create account in PayTM Business, its easy and simple.
Install PayTM Business on your Android or iOS device to open an account in PayTM Business.
Android: https://play.google.com/store/apps/details?id=com.paytm.business&hl=en_IN&gl=US
iOS: https://apps.apple.com/in/app/paytm-for-business/id1351301966
Or visit https://business.paytm.com/ to open an account.
Account opening process is simple, just fill in the required forms, and give your PAN CARD or AADHAR CARD NUMBER.
After opening your account do the steps mentioned below to successfully transfer money from your credit card to your bank account.
Step 1: Login to your PayTM Business Dashboard by clicking here.
Step 2: Click on "Accept Payments"
Step 3: Click on "Payment Links"
Step 4: Click On "Create new link", a window will popup enter the amount you want to transfer and click on "Create Payment Link"
Step 5: After creating the payment link, copy the link and open the link on a new browser.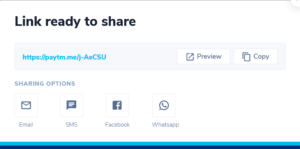 Step 6: After you open the payment link in a new browser, you have to login in that link to make the payment. Login with an alternative number which you have not used while creating your PayTM Business account.
Step 7: After login to your payment link, select Credit Card as your mode of payment, enter your card details and click on "Add Money to pay"
Step 8: After successfully payment to your own payment link, the money will be transferred to your PayTM Business account.
Note:
Limit of amount is Rs 5000. If you want to transfer more money from your credit card to your bank account, create multiple payment links and follow the steps mentioned below.
Payment which will be made to your PayTM Business account will automatically transferred or settled to your bank account on the next day  prior to the day in which the payment is made.
(Visited 71 times, 1 visits today)