All banks in India operates as per the regulations prescribed by the Reserve Bank of India. If the bank customer is not satisfied with the services provided by the bank, then he or she can close their bank account. Some banks charges during account closing process and some bank doesn't. Axis Bank is most popular private bank in India. It has branches all over India. To close Axis Bank Account is easy and simple.
Also Read, How to close SBI Bank Account?, How to close ICICI Bank Account? 4 easy steps., How to close HDFC Bank Account? 4 Easy Steps.
Before you close your Axis Bank Account remember to:
Transfer all your remaining money to other bank account or withdraw them.
Clear all your pending dues.
Take your complete account statement before closing your account.
How to close Axis Bank Account?
Visit your nearest branch.
Get the "Axis Bank Account Closure Form" or download it by clicking here.
Preview of the form: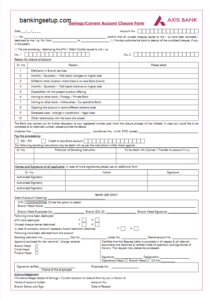 Fill out all the necessary information on the form like Account Holder Name, Account Number etc. Re-Check all the information filled in the form before submitting.
Provide all the necessary ID Proof and Address proof while closing your account.
Bank will verify the documents submitted by you on their end. After verification your account will be closed successfully.
Return things provided by the Bank.
After closing your account, return all the things which are been provided to you by the bank.
Cheque Book.
Pass Book.
Debit Card. (Debit Card must be cut into 4 pieces)
Credit Card. (If any) (Credit Card must be cut into 4 pieces)
(Visited 134 times, 1 visits today)